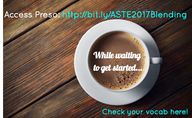 Return to flip book view
ASTE 2017 Intentional Blending
Page 1
Access Preso: http://bit.ly/ASTE2017Blending While waiting to get started... Check your vocab here!
Page 2
Get the skinny... Blending ----------
Defining
Intenionality
Quality
Amanda Adams
Page 3
Page 4
Quality
Assurance
Define Terms Add QR Code
and adjust link
Reflection Sort
Tasks
Transactional
Distance
Drink Coffee and Brainstorm with friends!
Page 5
Just a couple of definitions...
Page 6
Digital Parallel
Asynchronous
Synchronous
Blended
LMS
Individual
Rotation
Self-blend Model
Station Rotation
Flex Model
Online Lab
Transactional Distance
Feedback Cycle
Online Learning
Learning Path
Netiquette
Personalized
Learning
Curated
Content
Individualized Learning
Flipped
Classroom
Blended Learning
Page 7
Page 8
Page 9
Page 10
The Task Consider the work that you do with your constituents over the course of a specific week.
Brainstorm all of the tasks that you expect your constituents to do or experience as part of that chunk.
Make a T-chart with 2 columns: Synchronous and Asynchronous. Feel free to work off of this template.
Complete T-chart with the tasks that you brainstormed, dividing them by what must be done or is best delivered synchronously, and what could be more efficiently or better done asynchronously.
Page 11
Page 12
Page 13
Page 14
Two Resources for you... Non-linear & Kinesthetic Learners Visual & Auditory Learners
Page 15
Hitting the target - Honing in on Quality
Page 16
Page 17
Page 18
Page 19
Page 20
Page 21
with each task - Synchronous or Asynchronous
Page 22
The Task Consider a lesson or project that has some element of online work that you do with your consituents.
With a partner or 2, utilize the checklist to consider a lesson that you have (or use this template).
Draw conclusions about where this lesson could be improved & blended.
Page 23
Blending • Place • Time • Path • Place • Engagement • Personalization • Quality

Are you using blended learning ?
Are you being intentional about it?
Where can you focus building quality?
What do you need more information or guidance on?
Page 24
QA Checklist • Transactional Distance Article • Vocabulary Game
Page 25
What is your next step?
aadams@kpbsd.org • www.teachingjedi.com • @amsuad
Thanks!